Global MBA in
Global Master of Business Administration
Rushford Business School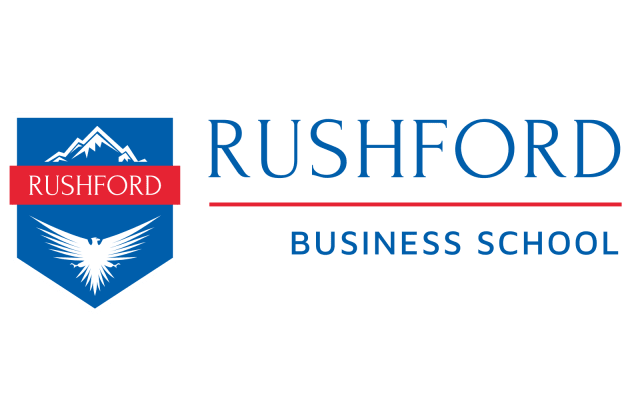 Introduction
This program has an inbuilt option to transfer to our German campus for at least six months and receive a post-study visa of 18 months in Germany.
As a full-time student in this program, you'll have the opportunity to immerse yourself in a rigorous curriculum that covers the essential areas of business management, including finance, accounting, marketing, operations, and strategy. You'll study these subjects with a global perspective, gaining a deeper understanding of how businesses operate in different countries and cultures. Additionally, you'll be able to study cross-functional topics such as leadership, ethics, and sustainability which provides you with a well-rounded education.
You'll also have the opportunity to attend a global immersion program that will give you a chance to gain firsthand experience of the international business landscape and network with other business professionals from around the world.
Throughout the program, you'll be participating in experiential learning opportunities such as case studies, simulations, and field projects. These activities will enable you to apply the concepts you learn in the classroom to real-world business situations and gain valuable hands-on experience. Furthermore, you'll have the opportunity to network with alumni, industry leaders, and recruiters, which can assist you in finding a suitable career opportunity after graduation.
As a graduate of the 18-month Global MBA program, you'll be well-prepared for a variety of career opportunities in an international setting. This program will provide you with the knowledge and skills to be a successful leader in today's global economy. Graduates can pursue careers in management consulting, investment banking, corporate finance, operations management, marketing, human resources, strategy, and entrepreneurship, as well as in various other international business functions.
You must choose one of the following available specializations:
Banking & Finance
Strategic Leadership
Human Resource Management
Entrepreneurship and Innovation,
Logistics and Supply Chain Management
International Marketing
Sustainability, Energy & Environment
Business Analytics
Data Science, Machine Learning & AI
Healthcare Management
Ideal Students
In summary, the 18-month Global MBA program at Rushford Business School is an intensive, full-time program that will provide you with the knowledge, skills, and networks you need to excel in the global business world. With a focus on experiential learning, international study, and networking opportunities, this program is the perfect choice for those who want to take their business careers to the next level.
Curriculum
Year 1 (60 ECTS)
1211 Transformational Management 4
1212 Managerial Economics 3
1213 Organisational Behaviour 3
1214 Financial Reporting & Analysis 3
1215 Marketing in a Digital World 3
1216 Data Analysis for Managers 4
1217 Research Methods for Managers 4
1218 Consumer Behaviour 3
1219 Corporate Finance 3
1220 Business Communication 3
1221 Legal & Ethical Business 3
1222 Logistics & Supply Chain Management 3
1223 Consulting Lab 1
1224 Project Management 4
1225 Information System & Technology 4
1226 Strategic Management 3
1227 Entrepreneurship, Technology & Innovation 3
1228 Leadership Skills 3
1229 Next Generation Leaders 3
Year 2 (30 ECTS)
You will choose one of the following specializations. A course must have at least 8 students to be operational. In some cases, it is possible to choose courses from 2 MBA specializations.
Banking & Finance:
1245 Advanced Finance 4
1246 Financial Investments 4
1247 Personal Financial Planning 4
1248 Retail & Commercial Banking 4
1249 FinTech 4
Strategic Leadership:
1230 Digital transformation 4
1231 Corporate Strategy 4
1232 Agile Leadership 4
1233 Entrepreneurial Leadership 4
1234 Mergers & Acquisition Strategy 4
International Business:
1235 International Business Policy 4
1236 International Marketing 4
1237 International Finance 4
1238 International Organisations & Strategy 4
1239 Global Business Management 4
International Marketing:
1240 International Marketing 4
1241 Marketing Research 4
1242 Advertising & Media 4
1243 Advanced Digital Marketing Strategies 4
1244 Sales Management & Strategy 4
Human Resource Management:
1260 International Human Resource Management 4
1261 HR Development & Training 4
1262 Communication & Negotiation in Employee Relationship 4
1263 People Management 4
1264 HR Workshops 4
Entrepreneurship Innovation:
1250 Entrepreneurship Finance & Valuation 4
1251 New Product Development 4
1252 Intellectual Property 4
1253 Private Equity & Venture Capital 4
1254 Entrepreneurial and Social Innovation 4
Logistics & Supply Chain Management:
1255 International Logistics 4
1256 Supply Chain Modelling and Design 4
1257 Procurement, distribution & freight logistics 4
1258 Sustainability in Logistics 4
1259 Retail Management 4
Sustainability, Energy, and Environment:
1282 Economic Analysis of Energy Sector 4
1283 Energy and Sustainable Business 4
1284 Enterprise and Circular Economy 4
1285 Sustainability Entrepreneurship & Innovation 4
1286 Government and Environmental Policy 4
Healthcare Management:
1287 Global Population Health 4
1288 Digitisation in Healthcare (e-health) 4
1289 Big Data and Machine Learning in Health Economics 4
1290 Financial Management and Decision Making in Healthcare 4
1291 Economic and Business Decision Techniques 4
Business Analytics:
1270 Business Analytics 4
1271 Programming for Analytics using Python 4
1272 Predictive Analytics Methods 4
1273 Big Data and NoSQL 4
1274 Data Warehousing and Management 4
Data Science, Machine Learning & AI:
1270 Business Analytics 4
1276 Artificial Intelligence and Machine Learning 4
1271 Programming for Analytics using Python 4
1278 Mathematics for Machine Learning 4
1279. Machine Learning Methods using Python 4
Additional Work:
SIC Social Impact Challenge 10
GLSOR German Language School 10
BCIPOR Boot Camps & Innovation Project 10
Admissions
Eligibility Requirements
You are required to hold at minimum a recognized bachelor's degree with a minimum overall score of 55% (GPA 2.0 on a 4.0 point scale) or higher.
In some instances, you may also require relevant work experience and/or research experience. If applicable, you may demonstrate this through the submission of a CV, portfolio, and/or personal statement.
English Language Proficiency
Our programs are conducted in the English language. As such, you must demonstrate proficiency in the English language by submitting one of the following test scores during the application process:
IELTS Overall: 5.5
TOEFL (iBT: 58+; PBT: 490+; CBT: 167+)
TOEIC Overall: 555+
PTE Overall: 50+
Duolingo Overall: 90+
Career Opportunities
The 18-month Global MBA program at Rushford Business School prepares graduates for a wide range of career opportunities in today's global business environment. Graduates will have:
Solid foundation in business management with a global perspective
Ability to think critically, solve problems and make strategic decisions
Valuable skills for various industries and functions
Knowledge of global markets and cross-cultural understanding
Popular Career Paths:
Management Consulting:
Analytical and strategic thinking skills
Specialized in international and cross-cultural consulting
Investment Banking:
Financial acumen and knowledge of global markets
Focus on international clients or cross-border transactions
Career opportunities in various functions:
Corporate Finance
Operations management
Marketing
Human resources
Strategy
International Business
Entrepreneurship opportunities:
Emphasis on entrepreneurship and innovation
International focus
Skilled to launch and grow global business ventures
In summary, the career opportunities for graduates of the 18-month Global MBA program at Rushford Business School are vast and varied, and graduates will have the skills and knowledge needed to excel in a wide range of business careers with the added benefit of a global perspective and diverse skill set, making them well-positioned to succeed in the fast-paced and ever-changing global business environment.