MBA in
International MBA
Rome Business School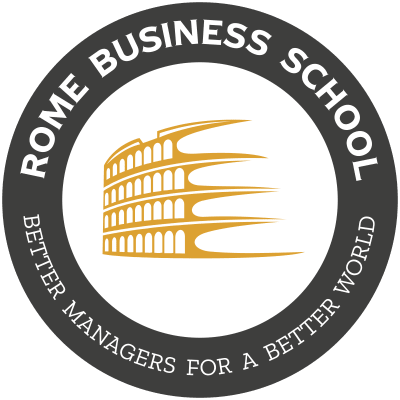 Key Information
---
Campus location
Rome, Italy
Application deadline
Request info
Earliest start date
Apr 2024
Introduction
The program is real business transformational journey. The learning is case based, hands on, enriched with Playful approach for serious learning such as: role plays, business simulation game.
The Rome Business School MBA Rome – Silicon Valley program is designed for young graduates who like to kick start their career and make an impact. This MBA is an intensive and demanding program, integrated with Business Practice experience, when students put theory into practice and enter in the business world ready to make an impact​
Shape your professional path through 4 pillars:
True link with companies
An international network of partner companies that will directly impact the students academic experience through the Business Practice LAB, Company visits, in class exercises and exclusive lecturers that will approach the theoretical contents of the master to the current professional reality.
Internationality
Rome Business School is proudly the most international business school in Italy. Everyday we are capable to immerse our students in a stimulating environment, thanks to our international faculty. our class with mixed ethnicity and our exclusive experience: Bootcamps. Students will have the opportunity to participate in bootcamps in Silicon Valley, Barcelona, Paris, Qatar, Lagos, Rome and Tuscany.
Professional Impact
Our goal is to have a true impact on our students professional career, both through the academic and through our Career Services. In addition to the lectures, our Masters provide different services to build our students profile through a structured Career Services, company meetings from top international companies, Company Shadowing or Individual Coaching sessions and a soft skills programs.
Higher Purpose
Following our motto, Better Managers for a Better World, we believe in managers that build businesses with a higher purpose. For that, we will train leaders to be responsible and innovative, and to drive change in society starting within their own companies.
Reason why to choose our International MBA Rome - Silicon Valley
Business Practice lab with Coca-Cola HBC Italy
You will collaborate with the managers to create a product launch strategy and a company-wide digital marketing strategy during the Business Practice lab with Coca-Cola HBC Italy. You will have the chance to assume the role of the CEO in the business simulation game, manage a fictitious business, and implement a competitive strategy.​
Career Accellerator Program
Salary Increase 36% - Design your professional profile a customised Career Acceleration Program created especially to mould each student's professional profile and make them competitive figures in the contemporary labour market. You will have access to individual career guidance meetings, workshops focusing on the newest hot topics in relation to job searching and career networking, and our exclusive events to ensure the best start or a great boost in your career.
Start in Rome end in the Silicon Valley​
Receive international education experience that can not be found anywhere else in Italy.​Complete a 1 week bootcamp program directly in the USA in the Silicon Valley, designed exclusively for the MBA class. In the Bootcamp, students accompanied by a coach, will develop a Business Report present it at the end and in addition, visit the brightest start up minds in the Silicon Valley: Google, Linkedin, Amazon Web Services and become innovative leaders​
Individual MBA Coaching Program​
Maximize your performance by realising your full potential. Students who enrol in the International MBA coaching programme will have the chance to work with two specialised coaches, Fabio Pisi Vitagliano and Veronica Schmidt, to improve their professional and personal skills in order to advance their career paths and increase their marketability.
Customize your MBA based on your career interests and passion
Choose among 4 specific areas to specialize your knowledge, if you like to manage emerging technologies, if you like to seize innovation, if you like to become more versatile by getting industry knowledge or build disruptive skills for a global business scenario and impact. ​
Virtual Coffee with CEOs
Network with top CEOs and learn what it takes to excel in your career Develop networking skills by meeting top CEOs and learning from their success stories. Students can attend 2 Virtual Coffee sessions with leading CEOs, during which they can ask questions, inquire about career interests and roadblocks, ask about the keys to career success and network with a variety of open, experienced professionals
Scholarships and Funding
Based on their personal profile, experience and proven motivation, the candidate may be awarded a scholarship to partially cover the participation fee. In fact, Rome Business School offers the most deserving candidates the opportunity to benefit from 7 different types of scholarships. These partial economic hedges can consist of 6 months of interest-free financing.
Early Bird Enrollment Scholarship.
Lifelong Learning Scholarship.
Academic Excellence Scholarship.
Academic Excellence Scholarship.
Entrepreneurial Grant.
Better Managers for a Better World Scholarship.
Student Loan Assistance Grant.
Competition for scholarships increases as the starting date approaches and funds are limited, so it is advisable to apply as soon as possible.
Curriculum
The International MBA Rome – Slicon Valley programme's goal is to develop young professionals with the managerial abilities needed to be innovative global leaders who drive change, transform businesses and people, and possess a growth mindset. They will advance in their careers, take on more responsibility within an organization, or start their own business.
Career Opportunities
Throughout your International MBA Rome – Silicon Valley, you will be accompanied and supported by our Career Services team. With over 10 years' experience in education, we help young talents and managers to build their future, guiding them along the path that best suits their capabilities, desires and professional goals.
To give our students the best support achieving their professional objectives, we've structured our Career Service into two core areas:
Career Acceleration Program
The Career Acceleration Program will help you develop the knowledge, market insights and tools that you need to pursue a successful career in a specific industry. You will benefit from valuable connections with top companies and recruiters.
RBS4Entrepreneurship
Are you planning to start up your own business or dreaming about becoming the fresh and innovative driving force within an organization? We will equip you with skills and knowledge to discover, test and improve your entrepreneurial skills, develop a business idea and finally launch your own business.
The master is particularly suitable for those who want to pursue a career in the following roles:
Chief Marketing Officer (CMO)
Chief Financial Officer (CFO)
Strategic Directo
Financial Manager
Sales Manager
HR Manager
Business Consultant
Marketing Manager
Chief Executive Officer (CEO)
Entrepreneur
Consultant
Business Operations Manager
The salary of out students after the completion of our MBA increased by an average of +36%