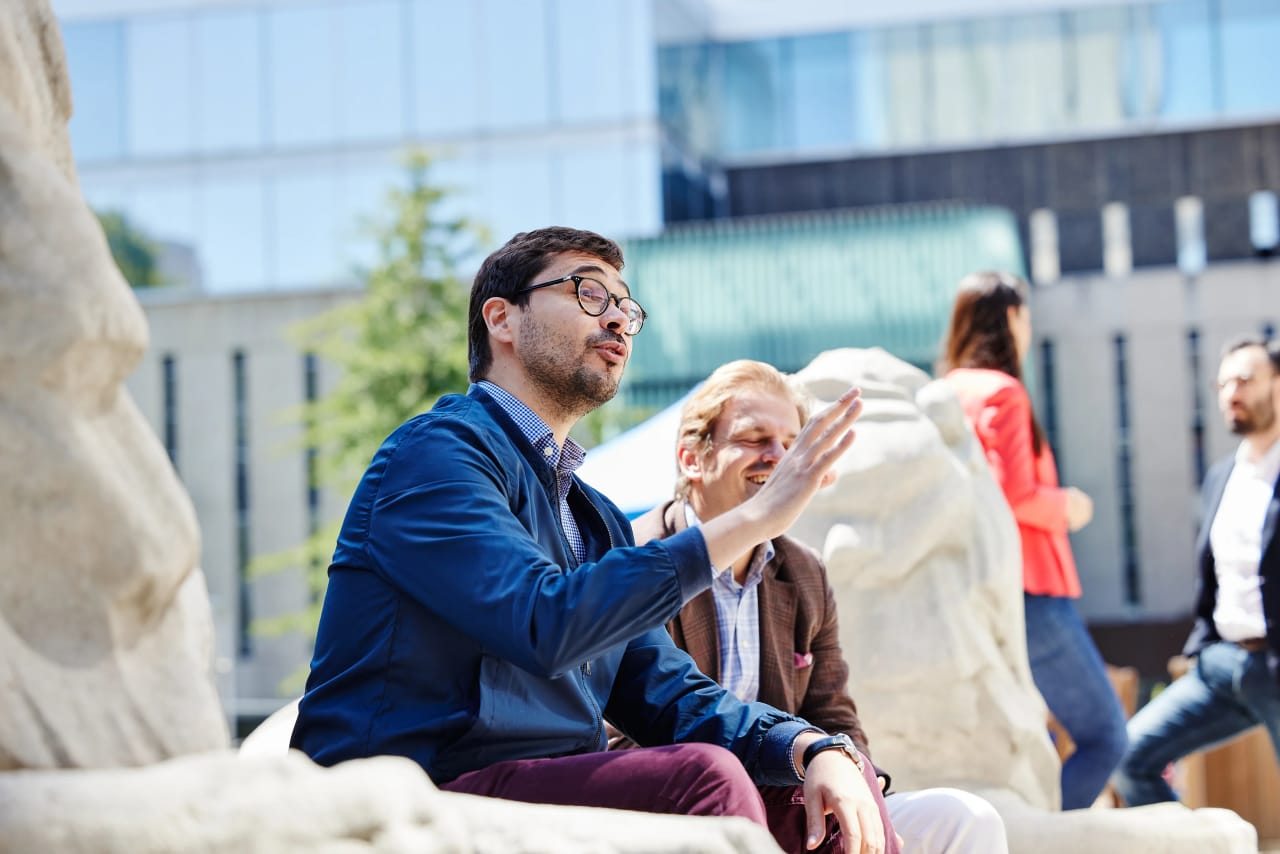 Full-Time MBA
Imperial College Business School
Key Information
---
Campus location
South Kensington, United Kingdom
Tuition fees
GBP 61,500 / per course
Application deadline
Request info
Earliest start date
Request info
Introduction
Accelerate your path to becoming an impactful leader with an Imperial MBA
Imperial is one of the world's premier universities, and a leader in technology and innovation. Studying your MBA with us will expose you to new ideas and disciplines, as well as connect you to a cohort of exceptional classmates.
We have recently evolved our Full-Time MBA, allowing you maximum choice in creating a personal curriculum to suit your career goals. Learn to master not just the skills, but also the behaviours and attitudes that leaders must possess.
Personalise your MBA every step of the way
Our flexcore modules are where you'll begin to tailor your journey, followed by a choice of over 40 electives across a wide range of topics. You have the option to shape your individual Pathway, or take specialisms in analytics, entrepreneurship, or finance.
Knowing, doing, being: your leadership journey
Embark on a journey of development and discovery, grounded with the self-awareness to become a responsible and impactful leader of inclusive and sustainable organisations on our innovative LEADS module.
Supported by your personal careers consultant, throughout the one-year MBA you will work towards maximising your leadership capability and professional effectiveness.
Immersive and practical learning
Immersive experiences complement your learning, including travelling with your cohort on the Global Experience Week, working with Imperial scientists on bringing new technologies to market, and consulting with multinationals and tech startups. The London Tech Trek and the Imperial tech frontiers series will give you direct access to inspiring leaders.
An MBA in London at a global top 10 university
Imperial College London is a leading global university, ranked #6 in the world in the QS World University Rankings 2023.
You will be taught by world-renowned faculty who are leaders in their field and study in one of the world's leading global hubs for business, finance, science, and technology. Few places can claim to offer more potential to a future leader than London.
Ideal Students
Risk-takers and change-makers
At Imperial, we are looking for well-rounded candidates with the aptitude and ambition to thrive in our Full-Time MBA, and make a global impact as the future leaders of business and society. Alongside intellectual ability and a strong professional track record, successful candidates for the Imperial MBA demonstrate:
Leadership potential
First and foremost, we are looking for candidates who exhibit strong leadership potential throughout their academic and professional experience. This can take many forms: being selected for a leadership programme at work, launching a new business venture, captaining a sports team or leading a voluntary project – anything which demonstrates your ability to lead, inspire and motivate others. Imperial MBAs have the leadership potential not just to succeed in business, but to create new opportunities and be trailblazers for others. We want candidates with the drive and ambition to change the world for the better.
Innovation
As part of one of the world's greatest science and technology universities with a global reputation for pioneering research, it should come as no surprise that at Imperial College Business School, we are looking for innovators for our MBA. Whatever your background, if you are a bold, original thinker you will fit into the class well, and have many opportunities to exercise your creativity through programme elements like the Entrepreneurial Journey or the Imperial Innovation Challenge, and access to London's thriving start-up scene. Entrepreneurial or intra-preneurial ventures in your career so far, academic projects, hobbies or your post-MBA aspirations can all demonstrate your passion for innovation.
Collaboration
Whilst we expect individual excellence from all of our MBA candidates, the culture at Imperial is focussed on collaborative success. Throughout the programme, working well with your cohort in syndicate groups and project teams will enable you to achieve so much more than you could by yourself. We are looking for people who will make a positive contribution to our community and find ways to enrich the MBA experience for their whole cohort by being highly engaged inside and outside the classroom – whether it's through exchanging ideas, utilising your network or organising activities. Your MBA classmates will become part of your lifelong network, so it's as important to you as it is to us that we get this right.
Scholarships and Funding
Imperial College Business School is pleased to offer significant scholarship funding to our most talented applicants. We are proud to offer awards that support diversity, such as MBA scholarships for women, regional scholarships, and the Reaching Out MBA (ROMBA) fellowship.
A range of scholarships are available and all self-funded candidates are automatically considered for all scholarship schemes for which they meet the eligibility criteria, entry requirements and application deadlines.
Curriculum
The business world is in a constant state of change. Digitisation is transforming the way businesses operate and reshaping the rules of work. Business leaders need to understand the change technology brings and have the agility, skills, and confidence to navigate through this ever-evolving environment.
This is where you come in.
The jobs of tomorrow require leaders who have vision and the ability to define, develop, and drive the strategies that will allow their businesses to excel through times of transformation.
This is where we come in.
Our MBA will challenge you to imagine, innovate, and inspire. It will allow you to develop the skills demanded by recruiters for the future workplace, enabling you find innovative solutions and create impact in business and society. The Imperial MBA Advisory Board, a group of top professionals across different industry sections, provide us with key insights into the skills that are in-demand by the global workforce.
Sitting at the cross-section of Imperial College London, with the academic rigour expected of a top STEM institution, and the management and leadership expertise of Imperial College Business School, you will be exposed to the latest thinking and experiences that will let you put your newly acquired expertise into practice - before venturing into the real world.
Your MBA journey: Core academic learning
The Full-Time MBA begins with pre-study modules. These primers are designed to ensure you are prepared for your core modules at the start of your programme, where you will develop a deep understanding of the fundamental areas of business.
To help you develop all the knowledge and skills needed to succeed; we've updated the program with flexible options to put you in control at every stage along your MBA journey.
You will begin your journey of customisation with flexcore modules. This will enable you to choose a variety of modules to stay on a general management path, or alternatively to study one of our newly developed specialisms in analytics, entrepreneurship or finance. The three specialism areas are aligned to Imperial's research and faculty strength in these topics and reflect the key skills top employers are looking for in MBA graduates.
Your next step is to choose from a wide range of electives, where you will continue to explore your own areas of interest. You can choose from traditional business topics such as marketing and strategy, or study electives that are unique to Imperial and our STEM expertise in areas including climate change, energy business, sustainability, AI, machine learning and more. If you've decided to pursue a specialism, you will choose your electives according to your chosen route.
Career Opportunities
Just as the business landscape is changing, so too is the job landscape. Careers in the future will not only be longer, but more varied, and businesses will change multiple times within the career of any one individual. While you can and should prepare for the here and now, the future you also needs to learn the skills to tackle and succeed in roles that don't yet exist.
As your career transforms, you need to be prepared with the capabilities and knowledge that will allow you to seamlessly move in and out of functions. Regardless of whether you're targeting consulting or fintech, or have an entrepreneurial venture in your sights, Imperial College Business School Careers will provide you with the practice, insights, and exposure that you need to future-proof yourself.