Program Description
The Strathclyde MBA
Developing ambitious managers into entrepreneurial, strategic business leaders.
The Strathclyde MBA takes experienced executives from a variety of backgrounds and equips them with the know-how, skills and strategic orientation to sustain and scale business in today's global businesses.
What is the Strathclyde MBA?
The Strathclyde MBA is not just a business programme, it's a stimulating, challenging, life-changing experience, which will make you question, re-think and re-evaluate how you do business.
The Strathclyde MBA is highly experiential and based on collaborative learning. Students share their varied work experiences, knowledge, understanding and skills.
The MBA will shape and guide you as a reflective, open- thinking, adaptive learner. This is facilitated through enhanced understanding of the interplay of theory and practice in management. In particular it:
provides the skills required for progression to higher level policy-forming positions
allows you to make successful career transitions
facilitates the move from technical specialism to general management
polishes the skills and enhances the abilities of people working for themselves or about to set up in business
What are the prime benefits?
Self-development
a broad understanding of business and management issues
strategic orientation and the ability to successfully implement the strategies formulated
development of management skills and techniques
self-awareness as a manager and leader
increased confidence in all areas of business
Career development
enhanced promotion prospects
new career opportunities
access to the extensive Strathclyde alumni network
What are the benefits for employers and sponsors?
Improved corporate performance
greater understanding of corporate goals
more knowledgeable and successful management
advanced communication through mutual understanding
greater awareness of external influences and recognition of the need for a quality customer focus and market orientation
increased potential for the effective utilisation of valuable corporate, human and other resources
Human resource development
greater ability to attract and retain high potential managers
flexible approach to management education
structured development of individual managers
an integral part of succession planning and development of tomorrow's leaders
Programme overview
The Strathclyde MBA is a 180-credit programme following the EU guidelines as set out by the Bologna Process. The programme is designed around four modules and the MBA project.
Module 1: The Reflective Practitioner
The Reflective Practitioner is designed to help students respond to the increasing emphasis in the business world on corporate social responsibility, stakeholder expectations and the professional practice of management. It comprises three component classes.
The Learning Manager: analysing and developing self-awareness as a manager and how you interact with others is crucial to becoming more effective, at any level within an organisation. The Learning Manager explores these issues and increases your ability to analyse and develop how you learn, to become ultimately a more reflective learner. Collaborative learning among students, and between students and staff is central to The Learning Manager.
Comparative Corporate Governance: to promote good corporate management in today's complex international environments, MBA graduates need to understand the importance of corporate governance in a free market system. This class will enable you to understand organisational structures and carry out analyses on key organisational stakeholders.
Entrepreneurial Management & Leadership: competitive, uncertain and fast-changing environments demand a new breed of manager and more entrepreneurial leaders. Entrepreneurial Management and Leadership allows you to experience and reflect on entrepreneurial skills and practices that are appropriate to managing and leading in a corporate context.
The Learning Manager, Governance and Entrepreneurial Management & Leadership provides you with the foundations to become an adaptive manager open to life-long learning.
Module 2: Making the Business Work
To become a highly effective general manager, it's crucial to understand the management fundamentals and processes that are vital to business success and that are operated by specialist functional teams in an organisation.
By becoming aware of these disciplines students are better able to appreciate each function as well as the inter-relationships and tensions between them.
During this second module of the Strathclyde MBA, you'll undertake the following classes:
Finance & Financial Management
Financial Management Accounting
Operations Management
Marketing Management
Analytical Support for Decision Making
Managing People in Organisations
Module 3: Strategic Management for Sustainable Success
The Strathclyde MBA is renowned for its reputation and excellence of research in the area of Strategy and Strategic management. The three inter-related classes within this module are:
Exploring the International Business Environment
Strategy Analysis & Evaluation
Making Strategy
Initially, you'll learn to explore and fully understand internal and external ambiguity, complexity and uncertainty in international business environments. Building on this understanding, you'll then develop your ability to manage in these environments. You'll be armed with structured opportunities to explore the major management and economic theories, alongside the language of strategy and strategic management in the Strategy, Analysis & Evaluation Class.
Finally, in the Making Strategy class, you'll learn to negotiate strategy in a small management team, putting into practice the management theories acquired in the preceding classes This will involve developing an effective statement of strategic intent, including purpose, competitive advantage and strategic priorities.
Module 4: Personal Development
As you progress through the Strathclyde MBA academics work with you to help you 'personalise' the learning and development, and ensure that the overall experience is highly experiential and relevant to current business practice.
Strategic Consulting in Practice is an opportunity to put into practice all that you've learned from the preceding Strategic Management module. Working as a consultant for a client organisation, you, as part of a small team, will be tasked to work on a live organisational issue for that particular organisation. The client will feature significantly in the evaluation of the class and your team's performance. This session normally runs over a weekend, will offer you many insights into the uncertainties of managing yourself, working with a small team, the task of strategising and meeting the expectations of the client.
In the final instructional phase of the Strathclyde MBA, the "personalised" element is realised via a range of possibilities and choices in our elective classes, and the final MBA project.
Elective classes
With a pool of over 120 academic experts across a wide range of specialist departments in Strathclyde Business School, we're able to offer more than 20 different electives all taught by subject specialists.
A highlight of the Strathclyde MBA calendar is the annual MBA Summer School, which takes place in Glasgow in May and June.
The summer school is open to all study routes of the MBA who have reached elective study stage. It's a wonderful opportunity to study your elective choices alongside a group of like-minded international colleagues.
For those unable to attend the summer school elective classes are also offered at our international centres.
To reflect both the latest challenges facing business and the latest insights from our world-leading research the range of electives is revised annually.
MBA project
The capstone element of the Strathclyde MBA is the MBA project. It gives you an opportunity to examine in depth a managerial, organisational or environmental issue of your choice over an extended period of time. The design of the MBA project enables you to put into practice the knowledge and skills that you've developed throughout the Strathclyde MBA. Wherever possible we'll assist you in identifying appropriate organisations and supervisors.
The primary aim is to reinforce your learning and development in an area of your choice and, with our encouragement, to undertake your project in a host organisation. The project is an integral part of the Strathclyde MBA. The final project report will be 13,000 to 16,000 words, depending on whether it's an individual or group project.
Career and Professional Development Support
At Strathclyde, we understand that career enhancement is one of the top reasons anyone chooses to study for an MBA.
Free and for Life
We draw on our many years of experience and industry knowledge from the in-house team, supplemented by top consultants who are experts in their field, to offer dedicated careers planning and development for all our MBA cohorts and unlimited access once you join our alumni.
Added Value
Complementary to your MBA learning experience, you can access a range of talks, conferences and networking events which will add further value to your Strathclyde MBA experience. Integrated and stand-alone seminars and workshops are delivered throughout the year, online and on-campus.
The Career Management Journey
Our focus is on developing long-term career management skills. As part of our Career Development Programme we offer:
strategies to support self-awareness, personal skills development, competency audits, and professional development needs
workshops on core career skills such as CV building, interviews, assessment centres, social media and online branding
seminars on key skills such as presentation, pitching, networking, culture management and personal impact
exclusive insights from successful alumni and company leaders through our Lunch and Learn programme and guest speakers
unlimited one-to-one access to an accredited careers and leadership coach
Book a personal coaching session, one-to-one or skype.
Our Virtual Careers Community
All students and alumni have access to our Career Management Site, where you will find a wealth of information and resources and also become a part of our global careers community, receiving alerts and information on jobs and events.
Recruiters
SBS is consistently a top-ranked school in the Economist and FT rankings and this is down to our students and alumni, who have added value in organisations and industries globally for many years. Meet our current students at-a-glance and see industry and nationality stats on our profile wall.
Want to engage further? Log in to our Career Management Site, where you can search profiles and post jobs and events.
If you would like to contact us directly, email careers@sbs.strath.ac.uk, or call Irene Taylor on +44 (0) 141 553 6057.
Consultancy Projects
Each year we are able to offer a number of strategic consultancy opportunities for students to complete as part of their MBA final project. Sourced from alumni and our corporate network, these assignments allow students to leave the MBA with a client-facing piece of consultancy on their CV.
Careers Post-Graduation… Where our Students Go
3 months after the November 2016 Graduation, 89% of our full-time students had jobs or a job offer.
Companies hiring included Accenture in the UK, Deloitte in India, Cognizant and Moodys in the US, Coracoes in Brazil, Ineos in Thailand, Central Bank of Indonesia, and Telecoms HK.
Industries where you'll find our 2016 graduates:
Consulting - 26%
Financial Services - 18%
Engineering - 10%
FMCG - 10%
Professional Services - 10%
Public Sector/NGO - 10%
Manufacturing - 4%
Media/Entertainment - 4%
Pharma - 4%
Technology - 4%
Last updated Dec 2017
About the School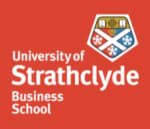 Strathclyde Business School(SBS)is a pioneering, internationally renowned academic organisation that shapes anddevelops the business minds of tomorrow. Strathclyde is one of a small percentage worldwi ... Read More
Strathclyde Business School(SBS)is a pioneering, internationally renowned academic organisation that shapes anddevelops the business minds of tomorrow. Strathclyde is one of a small percentage worldwide to be triple accredited, holding accreditation from the international bodies, AMBA, AACSB and EQUIS.
Read less
Glasgow ,
Athens ,
Zürich ,
Singapore ,
Dar es Salaam ,
Manama ,
Kuala Lumpur ,
Petaling Jaya ,
Muscat ,
Muscat ,
Dubai ,
Abu Dhabi ,
Milan ,
Munich ,
Beijing ,
Toulouse
+ 15 More
Less