MBA International Management
Home ›
MBA ›
MBA International Management
Program Description
Available online
The Dual Degree Program enables MFUA Business School students to obtain an MBA degree in International Management from the SBS Swiss Business School after successful completion of only 5 extra modules. The program is delivered entirely in Moscow, by Swiss professors and business experts.
SBS Swiss Business School


Located in Zurich, financial capital of the world
Focuses on academic programs in business administration
Listed in the Financial Times rankings
The 14th best MBA program in Europe, according to the British CEO Magazine
Accredited for its business programs through the International Assembly for Collegiate Business Education (IACBE) and the Accreditation Council for Business Schools and Programs (ACBSP) – USA-based accreditation organizations recognized by the Council for Higher Education Accreditation (CHEA)
Certified by EDUQUA – a Swiss Quality Assurance Certificate
Winner of 2 award categories by European CEO Global Business Education Awards 2012:
Most Innovative Business School, Switzerland – 2012
Best Remote Learning Program, Europe – 2012

Program Advantages


Swiss degree without leaving Moscow.
Substantial saving of time.
On-campus education (not a distant one).
Swiss part of the program is delivered by SBS Swiss Business School professors, business practitioners, top managers and experts of the leading international companies
МВА degree recognized internationally.

Admission Requirements


Successfully completed an undergraduate degree.
At least two years of prior work experience.
A short essay, describing how receiving an MBA degree will help you to achieve your career goals in 5 years.
Successful completion of foreign language test.

Languages


Russian (MFUA modules)
English (SBS Swiss Business School modules + dissertation)
Intensive individual and group lessons of English are offered prior the program start as well as on an ongoing basis throughout the program period.
Program Structure:

Semester 1.
Fundamentals of Marketing
Financial Management
Organizational Behavior and Leadership
Financial Accounting and Theory
Operations Management and Computing

Semester 2.
New Venture Creation
Managerial Economics
Communication and Negotiation Skills
Accounting skills (Managerial Acct)
International Business Finance

Semester 3.
Management Information Systems
Human Resource Management
International Marketing
Business Policy and Strategy
International Business Competitiveness

Semester 4.
Master's Thesis (Research Methods + individual mentoring)
Last updated Dec 2017
About the School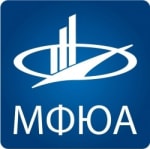 The business school of the Moscow University of Finance and Law specializes in providing high-quality business education, and currently offers
The business school of the Moscow University of Finance and Law specializes in providing high-quality business education, and currently offers
Read less