MBA Full-Time Programme
Home ›
MBA ›
MBA Full-Time Programme
Program Description
You aspire to :
Develop and consolidate your ability to act as team leader in a strategic and international setting.
Acquire leadership and effective decision-making skills.
Gain managerial skills in order to complete your technical or scientific studies.
Move on in your career (lawyer, engineer, scientist, etc.).
Progress in an international context.
Our MBA has the answers to your challenge :
We will maximise your potential in order to provide you with a key competitive advantage to fill top management positions.
We will give you the necessary tools and methods to develop the understanding of strategic problems in order to take effective strategic decisions.
We will give you the opportunity to carry out a student internship placement or an international student exchange at one of our partner universities.
Thanks to:
A dynamic programme taught in English, which enables participants to understand the complex aspects of operating in a European context.
A group of multicultural and multinational students from a wide variety of backgrounds.
Job-search and coaching workshops and seminars.
A participative method which combines case studies, seminars, internship placement, international student exchange, research project.
Our network of more than 100 partner universities in 36 countries on all continents.
Our experience in teaching international business to an international public.
The Programme
1st Semester

-Introduction to Business and Management
-Operational International Marketing
-Sales Forecasts
-International Negotiation
-Strategic Management
-Doing Business in Europe
-Purchase and Logistics
-Project Management
-International Project Management
-French as a Foreign Language
-Advanced French as a Foreign Language
2nd Semester

-Entrepreneurship and Development
-Developing Business in Overseas Markets
-European Business Communication and Negotiation
-Research Methods
-European Marketing Concepts and Analysis
-European Company Law
-European Human Resources Management
-International Finance and Management Control
-Analysis of Major European Companies
-Marketing Techniques and Methodology
-Purchase and Sales Negotiation
-Coaching and Job Search
-Advanced French as a Foreign Language II
3rd Semester

-Internship with a report or International Exchange + Research Project
Admission Requirements
- Bachelor degree or an equivalent professional qualification
- A good command of English
- Application form
- Two letters of recommendation
- Motivation essay
Final selection is made by interview
Last updated Dec 2017
About the School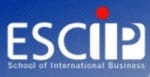 An international business school, created in 1991 by ARC INTERNATIONAL, a world leader in quality tableware, ESCIP has been designed for students looking for excellent business training with a strong ... Read More
An international business school, created in 1991 by ARC INTERNATIONAL, a world leader in quality tableware, ESCIP has been designed for students looking for excellent business training with a strong international emphasis. ESCIP gives students who choose to study in our exceptionally rich and multicultural environment a flying start to their professional careers. ESCIP is located in Longuenesse next to Saint-Omer in the north of France. The Aude region in the north of France combines dynamic industrial development with a high-quality living environment. A region in the throes of change, it combines natural reserves and wonderful countryside with numerous areas for walking, fishing and specialised sports activities. ESCIP offers a 5-year business programme that fits in with the European higher education organisation (Licence-3-year Bachelor programme, Master-5-year Master programme, Doctorate-8-year PhD programme). It is at the centre of a network of influential and dynamic partnerships that play an active role in defining the main strategic lines of the school. ESCIP is committed to training future managers able to adapt to the demands of the business world in a highly competitive international context. With numerous work placements available in a wide range of sectors, ESCIP is well-positioned as an operational and international school.
Read less