Program Description
Overview
Gain the specialist knowledge and skills that will prepare you for senior management positions in a variety of fields with our two year MBA - Master of Business Administration (Professional).
You'll develop an understanding of the overall management of an organizational unit, including its marketing, finance, and people.
You'll gain hands-on experience, with assessments designed to solve real business problems through simulation or working with an industry or community partner.
This course presents a strong foundation in conceptual knowledge incorporating recent developments in sustainability and global trends in business. Stay up-to-date with current industry practices while developing expertise in:
critical thinking
problem-solving
creativity and
leadership.
CEO Magazine's 2017 Global Rankings awarded our MBA a Tier One rating for its excellent lecturers, small class sizes, student diversity, value-for-money, and international study options.
Careers
Successful completion, of course, could lead to general management and middle management positions in a variety of industries.
Organizations employing MBA graduates
Our students come from a range of professional backgrounds and gain employment in dynamic management and consulting roles in Australia and overseas within the finance, information technology, marketing, engineering, construction, tourism, and sporting industries.
Past graduates have gone on to work for organizations such as the United Nations, started their own business or gained a solid business education to complement their existing experience.
Salaries
Australian MBA graduates have the highest MBA compensation (salary plus bonus) in the world at an average of A$142,700 (QS TopMBA Jobs and Salary Report)(external link).
Course Structure
To attain the Master of Business Administration, students will be required to complete 192 credit points consisting of:
48 credit points college core units
24 credit points business core units
84 credit points professional core units
36 credit points research units
RESEARCH OPTION 1
12 credit points business research project; and,
24 credit points elective units. Students to select units from any College of Business Post Graduate Course (subject to availability). Please check any pre-requisite requirements prior to enrolling.
RESEARCH OPTION 2
12 credit points business research proposal; and,
24 credit points business research thesis.
Learning Outcomes
On successful completion of this course, students will be able to:
1.
Critically reflect upon theoretical approaches and analyze their application to achieve effective management strategies.
2.
Justify and interpret theoretical propositions and related bodies of knowledge to critically evaluate the resolution of business problems and recommend actions relevant to contemporary business settings.
3.
Critically apply cross-disciplinary knowledge in decision making with creativity for new contexts.
4.
Demonstrate accountability in autonomous and collaborative judgments and innovative strategic thinking in response to contemporary and future professional management challenges.
5.
Work as a reflective practitioner to formulate, implement and evaluate industry-specific investigations to resolve complex professional problems and inform management decision making.
6.
Communicate effectively to specialist and non- specialist audiences including multi-disciplinary teams, diverse cultural communities, and business and other professional organizations.
7.
Exemplify initiative and leadership in a dynamic 21st-century work environment, acting consistently, ethically and socially responsible.
8.
Plan and execute a substantial research-based project or evidence-based capstone experience linked to contemporary sustainable, socially responsible and ethical management practices to generate and evaluate complex ideas and concepts at abstract and practical levels.
Entry requirements
Completion of an Australian Bachelor degree (or equivalent) in any discipline
OR
Completion of an Australian Graduate Diploma (or equivalent) in a similar discipline
PLUS
IELTS (or equivalent): Overall score of 6.5 (with no band less than 6.0 in Listening, Reading, Writing and Speaking)
Pathways from VU courses
There are many ways you can start your education journey at VU. Pathways offer an easy transition between courses at different levels, so that you can start with a certificate and progress right through to postgraduate study.
Last updated Jan 2019
About the School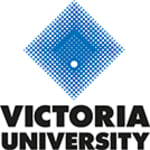 At Victoria University (VU), we want you to follow your passion and excel in the industry you've always dreamed of.
At Victoria University (VU), we want you to follow your passion and excel in the industry you've always dreamed of.
Read less
Saint Albans ,
Melbourne ,
Melbourne ,
Melbourne ,
Melbourne ,
Footscray ,
Saint Albans ,
Sunshine ,
Footscray ,
Sydney ,
Werribee
+ 10 More
Less